​Datacenter Infrastructure as a Service (IaaS) workshop 2014
Cambridge, UK | 10 December 2014
With the exponential growth in networking and datacenter usage, many organisations are facing the prospect of having to upgrade their current overcrowded, old and energy consuming facilities. Before planning a costly and complex rebuild or renovation many are looking towards an outsourced solution.
Many IT teams are asking some key questions:
Is building new space the only option or could IaaS be a better solution?
Is it worthwhile to build your own cloud or is joint procurement a better choice
How do you ensure high quality of services from outsourced solutions?
To answer these questions and more, CSC/FUNET hosted the GÉANT Campus Best Practice team Datacenter IaaS workshop, on 11-12 September.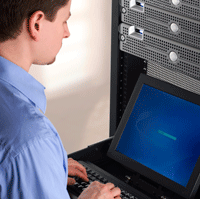 NREN staff involved in datacentre and campus deployments as well as network engineers working with deployment of IT services on campuses came together to discuss a set of themes built around datacenters. In total 39 people from eight different countries attended the event. The sessions were also streamed live and recorded.
The community was invited to contribute to the event by presenting their results, experiences and success stories on the deployment and usage of datacenter and cloud solutions. Many interesting presentations and lightning talks offered participants a unique overview and insight of the latest developments in datacenters, cloud services, security and data storage covering themes such as Green datacenter technologies; cloud service provisioning; joint procurement, costs and agreements; security; and datacenter networks.

The workshop participants had a chance to visit a large, live, modern and security certified datacenter. The visit completed the workshop content in a concrete way and raised a lot of discussion.
The key conclusions of the workshop are that the community has a number of key strengths within the fields of data center development, identity federations and cloud management technologies and there is considerable scope for enhancing the skills of procurement and data center security.
NRENs have come a long way in the development of effective datacentre development and management and IaaS is another valuable tool in the R&E portfolio.
Presentation slides, recordings, agenda and more are available from https://info.funet.fi/wiki/display/avoin/Datacenter+IaaS+workshop+2014