​​​​​​
Campus focus: A Strategic choice for the NREN
The adoption of Campus Best Practice is a strategic choice for the NREN. The importance of the campus focus was raised in the EARNEST report, which suggests many recommendations for the European campus networks – many of which are still relevant today. Important recommendations from the EARNEST report included:
Strengthen the collaboration between NRENs and institutions to improve the deployment of key services.
ICT keeps evolving at a fast pace. The network support team should be adequately staffed and have appropriate expertise. Focus on training.
If NRENs strengthen their relationships with the institutions, they may ensure high-quality services to the research and education community. This in turn supports the achievement of world-class results at the campuses.
When analysing the lessons learned from the Norwegian GigaCampus project (2006-2009) and the work done during the GN3 project, one can summarise the findings into the Campus Best Practices staircase (below).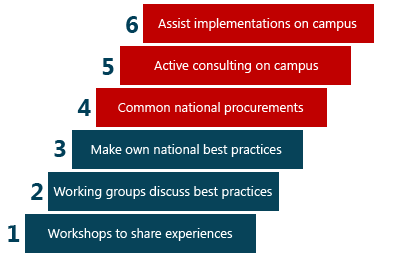 The CBP staircase describes the steps of introduction, from the arranging of workshops to the assisting of the implementations on campuses, which the NREN may follow.
​

    ​